Cleaning Service Checklist
   38 Point Cleaning Service Checklist
Main areas & Bedrooms
Vacuum carpets, stairs, hardwoods, rugs, incl. all edges, using a backpack or upright vacuum with HEPA filter
Vacuum upholstered living room furniture
Cushions and pillows fluffed and straightened
Books, papers, etc. neatly stacked – (clutter limits apply)*
Microfiber wet mop main areas wood/tile/linoleum floors
Dust walls, wall hangings, ceiling corners, and trim
Dust vents, lighting fixtures, and ceiling fans
Dust window valances and sills (wet wash when needed)
Dust blinds (wet washing may be extra)
Wet wipe or dry dust shelving, lamps, decorative items
Dust wood furniture
Hand wash baseboards as needed, otherwise dusting
Disinfect doorknobs and light switches – Spot clean doors
Wet wiping down walls as needed (excess will cost extra)
Clean storm door window, and inside patio slider window
Make beds (change bed linens if fresh linens are left out)
Empty all trash containers
We apply a 2-step dusting protocol – Step 1: Dust using a swifter duster or wet wipe surfaces. Step 2: Vacuum any remaining dust using a dust brush.
*If there is excessive clutter, an extra charge will apply – We always let you know if this is the case before we start. You will not be charged more than the agreed price.

(Click + to expand)

Add On Cleaning Service Items
Cleaning inside cabinets or drawers $5-$10 ea.
Dishes $5-$10 (depending on load size)
Clean out pantry or linen closet (in person bid)
Move furniture and clean under (in person bid / some weight restrictions apply)
Cleaning inside refrigerator $20-$25
Cleaning inside freezer $15
Cleaning inside oven $20-$30
Sweep garage (in person bid)
Sweep front or back porch (in person bid)
Wipe down books (in person bid)
Clean out cat box $9
Cleaning interior windows (in person bid)
Our cleaning service is always accommodating to your needs. If you need something not listed, please let us know.
Kitchen:
Spot wipe cabinet exteriors
Wash sink, drain, and stoppers
Wipe exterior of small appliances and counter top items
Clean exterior of dishwasher
Exterior oven, top, and vent (inside cleaning for a small fee)
Fridge (top, front, sides, seals)  (inside cleaning  for a small fee)
Exterior of trash compactors and any other large appliances
Clean Microwave (inside and outside)
Load 1 leveled sink into empty dishwasher (if requested, extra charge)
Vacuum and power mop kitchen floor
Clean baseboards
Bathrooms:
Disinfect toilets
Disinfect bathtubs/showers
Disinfect sink, faucets, and vanity
Spot wipe cabinet exteriors
Dust light fixtures
Clean and shine mirrors
Wipe down and shine all fixtures
Straighten towels (replace upon request)
Vacuum or sweep floor
Hand wash/disinfect floors including baseboards (we cannot disinfect carpeted floors)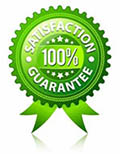 Quality Guarantee
We want you to be completely satisfied with our cleaning service.  If you are not, please contact us. Let us know within 2 days of your cleaning, and we will be eager to return and address your concerns.
Getting Started Is Easy!
Schedule a free quote conveniently on-line.
Cleaning service available in most South Denver Metro Areas.